Early in the year I was a little bummed about turning 40, Until I came across this blog
Never Growing Old
! and her Over 40 Bloggers List - then I couldn't wait to turn 40! She does a Blog Hop on Mondays, Today is my first.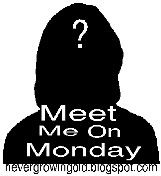 Questions:
1. What is your favorite dessert?
Chocolate anything Chocolate - Olive Garden used to have a Chocolate Lasagne cake - I was so sad when they stopped serving it.
2. What do you wear to bed?
Long T-shirts. I can't do pants even if they are the light weight PJ's, and socks or long sleeves are out of the question.
3. Do you get regular manicures/pedicures?
No, I recall only one Manicure in my life and have never had a pedicure. I wore nail polish for a brief period in High School but have not worn it since.
4. Did you play any sports in high school?
I ran track and cross country in High School. I don't run anymore, I do walk the dog every morning about 2 miles.
5. Do you have an iPod?
Java you are not the last person on the planet to not have an iPod, I don't have one either. There just aren't times when I want to have music in my ears, not even when I walk the dog, I love to take that time to think, and organize my day.